After closing our mid-year accounts, and as we continue our operations we'd like to offer an update from HSP Gripen! 
Deliveries are still going strong, and compared to last year's record results we are setting our sights higher this year. We are in line with the 2022 budget, and the current year is proceeding as planned. Taking into account the current state of the world, we are overall satisfied and proud of these results.  
We continue to report that we have conducted a number of organisational changes – this is an ongoing undertaking to equip our team to play in the high leagues as well as to fulfil new demands in the market. Most recently, we have expanded the Design Division with Stina Ohlsson, who joins us from her former position as Product Engineer/Product Developer at Hexatronic in Hudiksvall, and prior to that ÅF Industry as a machine engineer. At Gripen, Stina will be working on design, product development and calculations, whilst providing support in production where her previous experience will serve as an asset.   
In the Sales Department, we have added an export sales position to our team, which will be filled by Emil Asplund from first of November. Emil joins us following his position as SAM for the Americas and Spain at EcoLog, a forest machine enterprise company in Söderhamn.   
We are very happy to have these experienced and competent colleagues join HSP Gripen, and we are convinced their collective resources will make a difference going forward.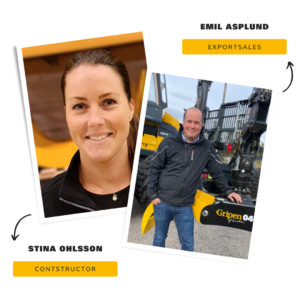 The Gripen Training programme – Gripenskolan – that we ran as pilot project in 2020/21 will now continue with a follow-up programme 2.0 this year.
The Gripen Training programme – Gripenskolan – that we ran as a pilot project in 2020/21 will now continue with a follow-up programme 2.0 this year. Ten staff will take part in this in-house professional development programme, covering Gripen know-how, leadership and empowerment, and personal development. You can read more about this at hsp.se. 
The factory continues to expand, and in addition to investing in new machinery we are currently running a number of projects including layout changes to the premises, streamlining workflows and planning for improved warehousing.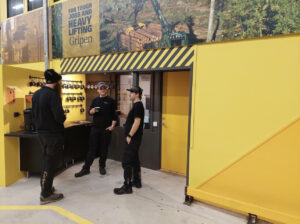 And we have recently installed and commissioned a brand new Okuma LT3000 from Stenbergs. It will complement our LT2000 and 4000 machines to further optimise our lathe operations. We are actively working to continuously improve the automation and robotisation of our production, and in this effort we have recently added a handling robot from ABB. This will enable us to increase production, whilst further streamlining our processes. After only a week in operation, we have seen a clear boost in productivity.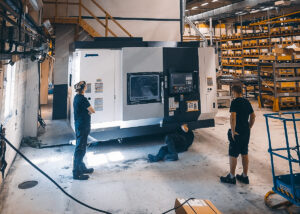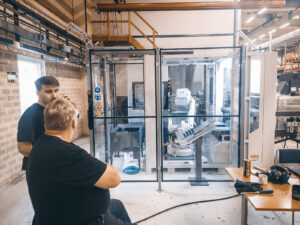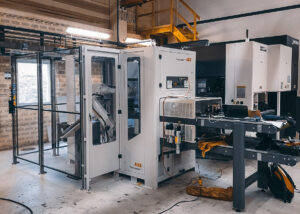 Additionally, we have just placed an order for a new cutting machine to further improve quality and capacity. Installation of this unit is scheduled for end of year.  
These investments are in line with our continued expansion plans and will enable us to capture new businesses and plant seeds for the future. By continuing our ongoing quest for automation and robotisation, we are securing the viability of the company in Hudiksvall that will serve as a great motivator to all of us.    
Over the year, our work on sustainability has also intensified with numerous ongoing projects in the pipeline, commencing from the environment around us through human resources to continued profitability. Among other things, we are in active dialogue with our steel suppliers where together we're aiming to reduce our CO2 footprint and switch to the use of fossil-free steel. Right now there are many things in motion, both at the customer end and throughout the supply chains. Follow us at social media and hsp.se for continued updates!